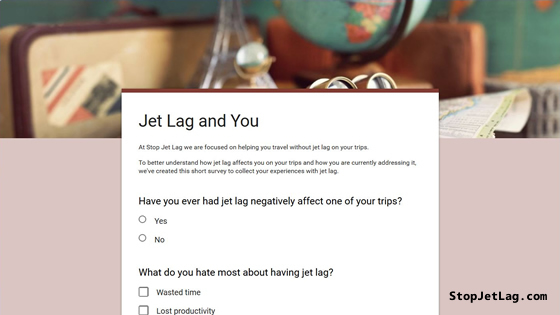 Jet Lag and You – A Short Survey
Help Us Help You Stop Jet Lag
At Stop Jet Lag we are focused on helping you travel without jet lag on your trips.
To better serve your jet lag needs, we'd like to understand how jet lag currently affects you on your trips and how you deal with it. To help us help you, we've created a short survey to collect your feedback on jet lag.
We'll use the answers we receive from this survey to address what we discover travelers need to know about how to easily avoid jet lag.
Yes, I want to take the "Jet Lag and You" survey »
What's in the survey?
To give you an idea about the jet lag feedback we are looking for, here is a sample of the questions you'll find in the survey.
Have you ever had jet lag negatively affect one of your trips?
What do you hate most about having jet lag?
Do you realize there is scientific research on how to easily stop jet lag?
How do you research dealing with jet lag?
Which of these influences do you feel impacts whether or not you get jet lag?
Do you have any other experiences with jet lag you would like to share with us?
What is your jet lag IQ? Find out with the Jet Lag and You survey
Click To Tweet
Do You Want To Improve Your Jet Lag IQ?
Discover How To Beat Jet Lag
After you take the survey, you can discover how to beat jet lag with this free series: "The Art and Science of Jet Lag"
Yes, I'd like to Stop Jet Lag »