Using natural influences to beat jet lag
Custom Scientific Stop Jet Lag Advice for Your Trip
We help you Stop Jet Lag on your trip
Make your next trip more enjoyable and productive without wasting your valuable time battling jet lag.

We use your personal profile times along with your specific flight schedules to create a customized StopJetLag Plan for your trip based on the latest scientific jet lag research.

Adjust quickly in any time zone with any flight schedule
We created Stop Jet Lag to give our jet lag travel specialists the ability to analyze your trip and furnish you with custom scientific jet lag advice, regardless of difficult flight times or complex multi-stop itineraries.
Custom scientific jet lag advice
Stop Jet Lag delivers the correct scientific timing for the major influences on jet lag which are
The optimal time to start functioning on your destination time
Based on your specific flights and sleep patterns
The correct time for bright light exposure and avoiding light exposure
The preferred meal times with types of food and size of meals
When to be active and get light exercise to raise your body temperature
The ideal times to consume caffeinated drinks
And the times to take advantage of optional melatonin supplements
The Challenge
Scientifically recommend the timing for the major influences on jet lag based on size and direction of your time change
Enable the analysis of any combination of flights, not just direct flights with ideal flight times
Minimize sleep deprivation
Determine realistically when to transition to destination time
Prioritize conflicting jet lag influences
The Solution
The secret to consistently beating jet lag is to correctly time all of the naturally occurring jet lag influences with the flight schedules that you booked.

Stop Jet Lag evaluates available sleep patterns
Custom scientific jet lag advice
Review by a jet lag travel specialist
Personal trip notes from your specialist
StopJetLag on Katie Couric Review
"StopJetLag.com will actually create a custom plan just for you.
They'll take into account your exact itinerary and recommend things like
when you should be waking up,
when you should be falling asleep,
what you should be eating, drinking,
when you should be opening your windows,
when you should be exposing yourself to sunlight,
when you should eat."
"All of these things really do make a difference. So this is a big issue and something that Stop Jet Lag is a great resource for."
— Sarah Spagnolo from Travel+Leisure on the Katie Show with Katie Couric
Do You Want To Improve Your Jet Lag IQ?
Discover How To Beat Jet Lag
Learn how to consistently beat jet lag by coordinating the major influences on jet lag with all your flights.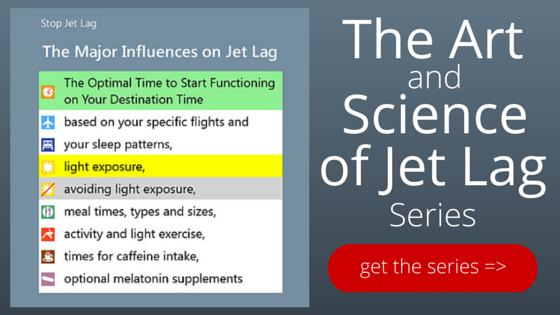 If you'd like to discover how StopJetLag helps you beat jet lag, you can request this free series: "The Art and Science of Jet Lag" from our website.
Yes, I'd like to Stop Jet Lag »
You too can achieve consistent results with the Stop Jet Lag Service
Stop guessing about the best timing for all the major jet lag influences on your trip.
No matter what flights you have booked, a Stop Jet Lag team member will carefully look at your specific trip. And only after evaluating how your flights are best coordinated with these natural jet lag influences will your Stop Jet Lag Plan be created, reviewed and sent to you.
Learn how you can achieve jet lag advice at your fingertips
Learn about the Stop Jet Lag Service »
Adventures without Jet Lag
Read what other travelers say about their experiences with Stop Jet Lag.