Getting Started
Welcome to StopJetLag.com
Our mission is to create an all-natural cure for jet lag for your trip.
We do this by integrating your personal profile with your entire flight schedules along with leveraging applied research in chronobiology (the study of body clocks).
If this is your first time here (and especially if you are worried about the debilitating effects of jet lag), we know all the information you think you need to learn about jet lag can be overwhelming. So we've created this page, with some of our best resources, to get you started on the road to a more productive and enjoyable trip.
How to use the Major Influences on Jet Lag
Katie's Travel Toolkit with Travel+Leisure
Sarah Spagnolo from Travel+Leisure discusses the major influences on jet lag with Katie Couric and how Stop Jet Lag uses them to make your trip more productive and enjoyable.
About Stop Jet Lag
The computer software that creates your Stop Jet Lag Plan was developed by Bill Ashton in collaboration with one of chronobiology's preeminent scientists, Dr. Charles Ehret.
Unlike other solutions, Stop Jet Lag leverages and integrates personal profiles, flight schedules, and applied research in chronobiology, providing travelers with the most comprehensive and accurate means of beating jet lag, even for those with difficult flight times or complex multi-stop itineraries.
The team's specialized software allows Stop Jet Lag to determine the best jet lag avoidance scenario for any flight schedule. The result is a customized Stop Jet Lag plan that takes into account the particular details of each trip, as well as the traveler's personal habits.
This makes it possible to identify times during a travel itinerary when 'core sleep' may be possible and prescribe specifically timed activities to optimize that sleep schedule.
Why Is There a Need for Stop Jet Lag
Bill Ashton explains
"Why I realized the need for
Stop Jet Lag

"
"All of my challenging travel experiences convinced me to create a comprehensive Stop Jet Lag service to help other travelers on their long distance business trips now that proven scientific research can be used to beat jet lag."
Dr. Charles Ehret explains
"Why I became involved with
Stop Jet Lag

"
"The program is able to identify and then select the optimum times during the schedule when 'core sleep' may be possible and then keys the rest of the prescribed routine to that optimum sleep schedule."
Why is Stop Jet Lag so effective?
Stop Jet Lag is consistently effective because it coordinates the specific timings of the major natural jet lag influences with the personal sleeping and eating habits of the traveler.
Stop Jet Lag is not a one-size-fits-all approach. Each plan considers your specific flight schedule and normal daily routines. The result is a completely customized, concise hour-by-hour schedule that helps you reset your body clock so you arrive at your destination on local time.
Stop Jet Lag is based on scientifically shifting your body clock onto your new time zone by:
Adjusting sleep and meal times
Timing bright light exposure and exercise
Eating the right food, at the right time
Regulating caffeine intake
Using melatonin supplements (optional)
The benefits of StopJetLag Mobile apps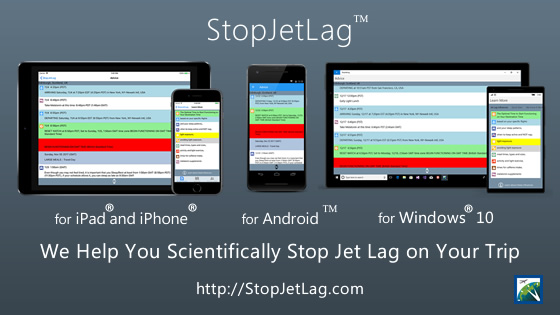 The major benefit of the StopJetLag Mobile apps is how they give you notifications about when to follow the all‐naturalcues while you are busy immersed in your travels.
Mobile apps make using Stop Jet Lag even more convenient. StopJetLag™ Mobile Apps available for iPhone®, iPad®, Android™, and Windows® 10.
Get automatic jet lag schedule reminders
Quickly view jet lag advice
Instantly access your Stop Jet Lag recommendations
There are no roaming charges. Download the app and your Stop Jet Lag advice prior to flight. Internet access is not necessary inflight or on your trip.
View StopJetLag Mobile details »
'This All-Natural Cure for Jet Lag May Be the Best Thing Ever'
Click To Tweet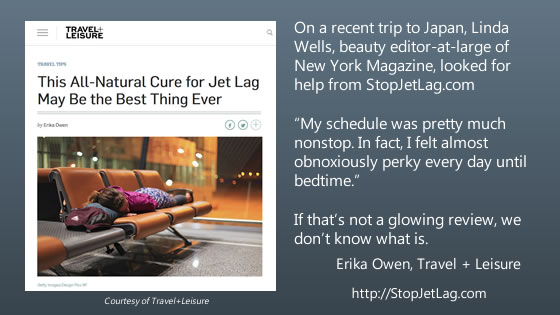 Read the 'This All-Natural Cure for Jet Lag May Be the Best Thing Ever' post here »

Do You Want To Improve Your Jet Lag IQ?
Discover How To Beat Jet Lag
If you'd like to discover how to beat jet lag, you can request this free series: "The Art and Science of Jet Lag" from our website.