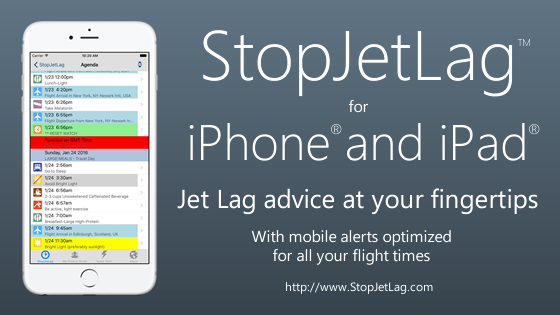 StopJetLag Rev 4.0 iOS 9 update for iPhone® and iPad®
What's new in the StopJetLag 4.0 for iPhone and iPad update
iOS 9 support
Enhanced flight visibility for all your flight departures and arrivals
Refined notifications for current jet lag advice
Updates to jet lag advice information
StopJetLag 4.0 now available in the Apple App Store
Visit the App Store℠ to download the free StopJetLag app.

Benefits of Stop Jet Lag
Easily access your customized Stop Jet Lag plan on your mobile device in addition to the normal Stop Jet Lag plan pdf sent by email.
Quickly adjust to the time zone at your destination using reminders that mitigate jet lag such as bright light exposure, food, sleep, exercise and optional melatonin supplements.
Minimize sleep deprivation by understanding the optimal moment to switch to destination time.
Stop Jet Lag considers your specific flight schedule, multi-stops and connections in relationship to your normal daily routines.
Jet Lag advice at your fingertips ~ StopJetLag 4.0 on iPhone & iPad
Click To Tweet
Stop Jet Lag On Your Next Trip
Stop Jet Lag Mobile puts scientifically researched jet lag advice, created by a jet lag travel specialist, at your fingertips.
Once your Stop Jet Lag Plan is downloaded, receive easy to follow activity notifications, even on flights without Internet access.
Purchase a customized Stop Jet Lag plan and access your information right from your mobile device.
Your StopJetLag for iPhone and iPad mobile app makes using Stop Jet Lag even more convenient.
Get automatic jet lag schedule reminders
Quickly view jet lag advice
Instantly access your Stop Jet Lag recommendations
There are no roaming charges. Download the app and your Stop Jet Lag advice prior to flight. Internet access is not necessary inflight or on your trip.
Your Stop Jet Lag Plan can be purchased at StopJetLag.com »
Avoid the down time caused by jet lag
The secret to consistently beating jet lag is to correctly time all of the naturally occurring jet lag influences with the flight schedules that you booked.
There is always an optimal time to shift to your destination time zone based on your flight schedule. This time is based on your departure and arrival times, including the connections that are required to get you to your destination.
As part of the Stop Jet Lag service, a team member will review all of the specifics of the flight schedules on your trip. Then they will recommend your optimal shift time followed by prioritizing the naturally occurring jet lag influences that help you consistently beat jet lag.
How to use Art and Science to Beat Jet Lag
Learn how to consistently beat jet lag by coordinating the major influences on jet lag with all your flights.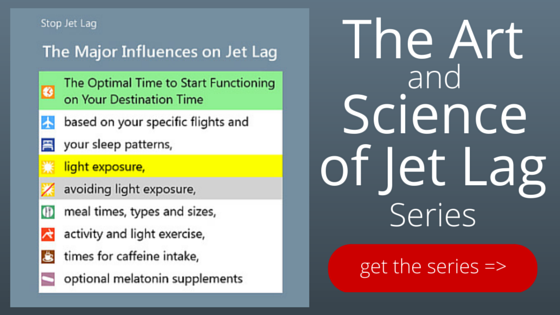 Join us to receive "The Art and Science of Jet Lag" series.
You too can achieve consistent results with the Stop Jet Lag Service
Stop guessing about the best timing for all the major jet lag influences on your trip.
No matter what flights you have booked, a Stop Jet Lag team member will carefully look at your specific trip. And only after evaluating how your flights are best coordinated with these natural jet lag influences will your Stop Jet Lag Plan be created, reviewed and sent to you.
Learn how you can achieve jet lag advice at your fingertips
Learn about the Stop Jet Lag Service »
Adventures without Jet Lag
Read what other travelers say about their experiences with Stop Jet Lag.