Stop Jet Lag Plan Overview
Your Stop Jet Lag Plan is designed to help you eliminate the debilitating effects of jet lag, safely and effectively. The instructions are prepared specifically for you using your exact flight schedule. For best results, follow the instructions carefully and completely. Even if you can't adhere to the plan in its entirety, the more you can implement, the further your jet lag will be reduced.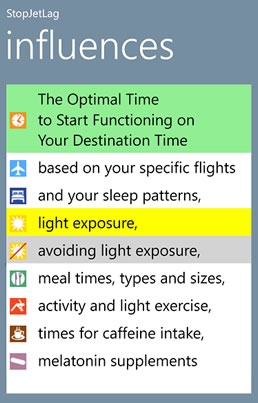 Major jet lag influences used by Stop Jet Lag
Use the optimal timing for all these proven influences
Scientific research has proven that correct timing for the use of bright light exposure, melatonin supplements, food, caffeine, and exercise plus minimizing sleep deprivation is key to avoiding jet lag. (1)
Conflicts your jet lag travel specialist looks for:
Flight departures and arrivals
Your Stop Jet Lag travel specialist reviews and resolves the optimal time to start functioning on your destination time in relationship to your flight departures and arrivals before sending your Stop Jet Lag advice.
Flight departures – After determining the best time to start sleeping on destination time so that you do not miss any of your flights because you fell asleep, your travel specialist will review the correct timing of the jet lag influences.
Flight arrivals – Melatonin is not recommended too close to your flight arrivals. Being alert after your arrival takes precedence over using melatonin supplements.
Transport time to and from the airport – Your travel specialist will give priority to being alert during your transit times and adjust your recommendations accordingly.
More detailed information can be found here
(1) This recent Wall Street Journal article concluded that using science helps you avoid jet lag. "To Avoid Jet Lag This Summer, Travel Like a Scientist" – wsj.com, By Amy Dockser Marcus