Enhanced Flights Visibility
With the StopJetLag Highlighted Flights Release your flight departures and arrivals are now more visible on your mobile device.
It's essential to know when your flights occur in your Stop Jet Lag plan since all of your jet lag advice is geared to making sure you are awake whenever it is time to catch your flight.
San Francisco to Edinburgh with a connection in New York City
Note how the connection in New York City requires this traveler to board the plane on the New York City to Edinburgh flight before it is possible to sleep on Edinburgh time.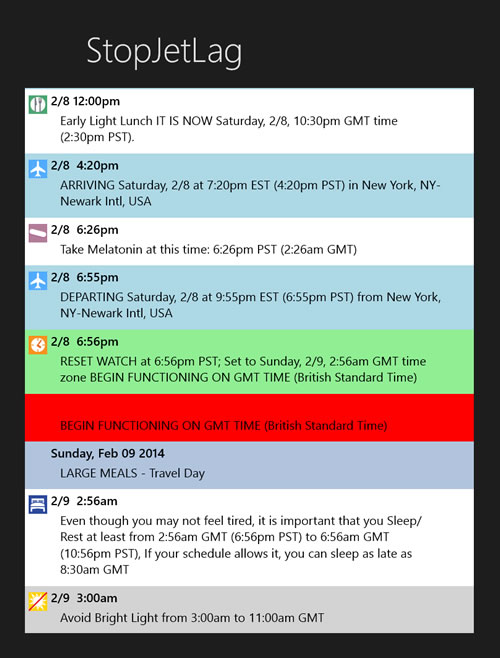 Flight conflicts your jet lag travel specialist looks for:
Flight departures and arrivals
Your Stop Jet Lag travel specialist reviews and resolves the optimal time to start functioning on your destination time in relationship to your flight departures and arrivals before sending your Stop Jet Lag advice.
Flight departures – After determining the best time to start sleeping on destination time so that you do not miss any of your flights because you fell asleep, your travel specialist will review the correct timing of the jet lag influences.
Flight arrivals – Melatonin is not recommended too close to your flight arrivals. Being alert after your arrival takes precedence over using melatonin supplements.
When and where are your connecting flights? – Connections that entail changing planes require you to be awake to catch your flight. Possible sleep times are therefore evaluated for other sections of your trip.
Transport time to and from the airport – Your travel specialist will give priority to being alert during your transit times and adjust your recommendations accordingly.
This release is available for:
Windows 8
Windows Phone
Android
iPhone and iPad
Find out more about Stop Jet Lag