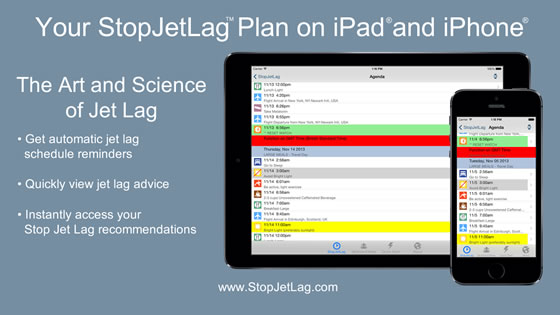 StopJetLag Rev 3.5 updated to iOS 8 for iPhone® and iPad®
Now available in the Apple App Store
Visit the App Store℠ to download the free StopJetLag app.
Consistently beat jet lag with the art and science of jet lag
Stop Jet Lag Mobile puts scientifically researched jet lag advice, created by a jet lag travel specialist, at your fingertips.
Once your Stop Jet Lag Plan is downloaded, receive easy to follow activity notifications, even on flights without Internet access.
Purchase a customized Stop Jet Lag plan and access your information right from your mobile device.
Your iOS 8 Mobile app makes using Stop Jet Lag even more convenient.
Get automatic jet lag schedule reminders
Quickly view jet lag advice
Instantly access your Stop Jet Lag recommendations
There are no roaming charges. Download the app and your Stop Jet Lag advice prior to flight. Internet access is not necessary inflight or on your trip.
Your Stop Jet Lag Plan can be purchased at StopJetLag.com »

Benefits of Stop Jet Lag
Easily access your customized Stop Jet Lag plan on your mobile device in addition to the normal Stop Jet Lag plan pdf sent by email.
Quickly adjust to the time zone at your destination using reminders that mitigate jet lag such as bright light exposure, food, sleep, exercise and optional melatonin supplements.
Minimize sleep deprivation by understanding the optimal moment to switch to destination time.
Stop Jet Lag considers your specific flight schedule, multi-stops and connections in relationship to your normal daily routines.
Find out more about Stop Jet Lag