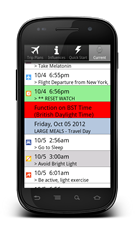 Stop Jet Lag on Android™ Rev 2.2
Available on the Google Play Store
Want to Stop Jet Lag? Purchase a customized Stop Jet Lag plan at stopjetlag.com and download the free Stop Jet Lag app. The Stop Jet Lag mobile app puts scientifically researched jet lag advice, created by a jet lag travel specialist, at your fingertips.
After you download your plan to your mobile device, you'll receive easy to follow activity notifications, even on flights without Internet access.
Benefits
Easily access your customized Stop Jet Lag plan on your mobile device.
Quickly adjust to the time zone at your destination using reminders that mitigate jet lag such as bright light exposure, food, sleep, exercise and optional melatonin supplements.
Minimize sleep deprivation by understanding the optimal moment to switch to destination time.
Find out more at stopjetlag.com
Find out more about the Stop Jet Lag on Android release

Find out more about Stop Jet Lag Mobile