Use the optimal timing for all these scientifically proven major jet lag influences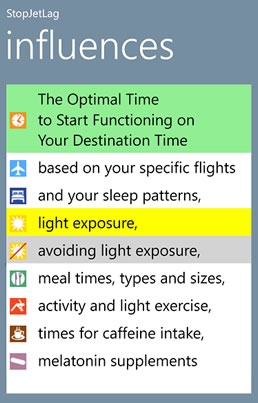 Scientific research has proven that correct timing for the use of bright light exposure, melatonin supplements, food, caffeine, and exercise plus minimizing sleep deprivation is key to avoiding jet lag. (1)
The challenge is knowing the optimal time to start functioning on your destination time based on your specific flights and your sleep patterns.
Now with Stop Jet Lag, you can put an end to jet lag woes and learn how to adjust quickly in any time zone, regardless of your flight schedule.
Unlike any other jet lag advice, Stop Jet Lag gives you an advantage – jet lag travel specialists analyze your trip, and take into consideration difficult flight times or complex multi-stop itineraries before sending your Stop Jet Lag Plan.
Your jet lag advice is based on:

A natural approach to safely and scientifically resetting your body clock
Correctly timing your intake of food, drink, sleep, bright light and optional melatonin supplements
More detailed information can be found here
(1) This recent Wall Street Journal article concluded that using science helps you avoid jet lag. "To Avoid Jet Lag This Summer, Travel Like a Scientist" – wsj.com, By Amy Dockser Marcus